For Independent Sales Associates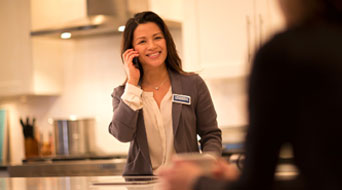 Coldwell Banker is well known for being a company built on a strong commitment to offering rewarding, challenging affiliations and opportunities to achieve professional growth and success. An independent sales associate affiliated with Coldwell Banker has the opportunity to associate with a premier organization that is international in scope, yet locally focused. Coldwell Banker is proud of its long heritage with more than a 100 year history. A career in real estate can be a wonderful experience, especially at Coldwell Banker. We offer an array of services and resources to help all independent sales associates grow their business.
Are you a self-starter? Do you have impeccable organizational, communication, and follow-up skills? Do you have a genuine interest in building strong relationships with people? If so, you may have the characteristics it takes to become a successful independent sales associate.
If you're looking for a partnership opportunity with unlimited growth potential, one that is both challenging and rewarding, and lets you set your income goals as high as you can dream, then a partnership with Coldwell Banker may be right for you.

As a company whose name has been synonymous with real estate excellence, we seek to affiliate with independent sales professionals who are highly motivated and dedicated to providing the highest quality service to their clients. Our company has a great reputation, both locally and nationally, and we're excited to expand our network of independent sales associates.
For Employees
Coldwell Banker's highly energetic, detailed-oriented employees offer truly remarkable service to our customers. Our employment opportunities range from finance to technology, and administration to management. We have a diverse organization with a number of intriguing opportunities, both in our sales offices and corporate office.
View current opportunities listed on our national careers site.